Update: I am so excited to announce that I was recently selected as a 2021 Soros Equality Fellow. The fellowship supports mid-career professionals advancing racial justice through 18-month projects. The fellowship will allow me to be at home with my own family while also writing about family separation and the resilience of families across US history. I believe that the resilience of BIPOC communities in the face of a hostile country provides lessons for how we might survive an increasingly inhospitable planet and how we might heal all our relationships.
In the twenty years since I came across the Ella Baker Center, I went from an inquisitive law school student intern to the Executive Director of an organization responsible for incredible victories and initiatives across the state and the country. I have always tried to give everything I can, but that could never match all that I have learned from being a part of this organization. And so it is with a mix of tremendous gratitude and pride, that I announce my transition out of my role as the Executive Director at the end of February 2022.
In my early twenties, despite having gone to school at well-regarded institutions, I was not learning how to make change. In fact, I was being taught how to protect the status quo. Yet, I knew deep down that connecting with others to challenge injustice and inequity was necessary for our survival.
In 2001, when I first interned at the Ella Baker Center I was what you might call a "baby in the movement." I found a small group of individuals who were determined not just to challenge injustice but to overcome it. I am so grateful for Diana Frappier and Van Jones for creating an institution where making "good trouble" and building communities that support all of us was not just the long-term goal but also the everyday practice. Back then, we worked from a small dimly lit office with no windows but we were all encouraged to dream big.
Over the years, I worked as an organizer, lead organizer, and then campaign director of Books Not Bars. I learned from incredible organizers like Jakada Imani, Nicole Lee, Lenore Anderson, Sumayyah Waheed, and Ying-sun Ho. We showed that when big dreams are coupled with determination and strategic action we could win accountability for state violence, stop a super-jail for youth, and close youth prisons. I am particularly proud that I got to work with Joyce Cook, Lourdes Duarte, Ruth Whitmore, Katrina Allen, Laura Brady, Allen Feaster, Barbara Jackson and other Families for Books not Bars members. They showed me in practice what Marta Haneker has taught us, "politics is the art of making the impossible possible." Rest in power Allen, Barbara, Joyce and Laura.
In 2013, I received a call from the then Board Chair Shiree Teng, asking if I might be interested in taking on the role as Executive Director. I jumped at the chance and got to continue to work with amazing leaders like Jennifer Kim, Hayes Morehouse, and Nwamaka Agbo. We worked to build infrastructure for real community safety through legislative initiatives, and major projects like Night Out for Safety and Liberation and Restore Oakland. I feel proud that after being bounced around the Bay Area from office to office, Restore Oakland is now the permanent home for our organization and key allies. To go from a windowless office to having our own building that represents our vision of restorative justice and restorative economics is huge, not just for our organization but also in the larger movement to defund policing and prisons and to invest in real safety infrastructure.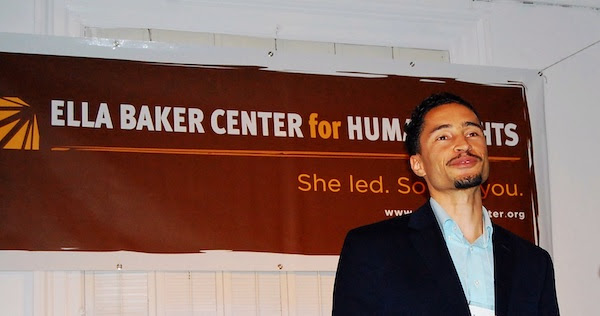 For as much I have learned and as much as we have built, the work at the Ella Baker Center also showed me what I needed to unlearn, and that we need to continue to dismantle systems that do not serve us. I have unlearned the belief that the economic system we live under is anything but disastrous for people, other living creatures, and the place we all call home. I have shed the belief that putting people in cages makes our communities safer and begun to let go of previously unquestioned ways of being a cisgender Black man. I am grateful for the Ella Baker Center staff, members, allies, and broader movement family for the grace and patience afforded me along this learning and unlearning journey.
I know that it is time to move on not only because I am ready, but also because the organization is ready. I am both appreciative and in awe of the current staff and board. Under their leadership, the organization is reaching high marks both in terms of how rooted in community our work is and in our reach and impact in the world. Through programs like Healing Through Action and the Inside/Outside Fellowship, we are learning from and at the same time supporting leaders who are advancing change across the Bay Area and California. We continue to successfully push legislative and budgetary policies that advance racial and economic opportunities for Black, Brown and low income people who are most impacted by the criminal legal system. And this year, people engaged in Night Out for Safety and Liberation in nearly 50 locations across the country.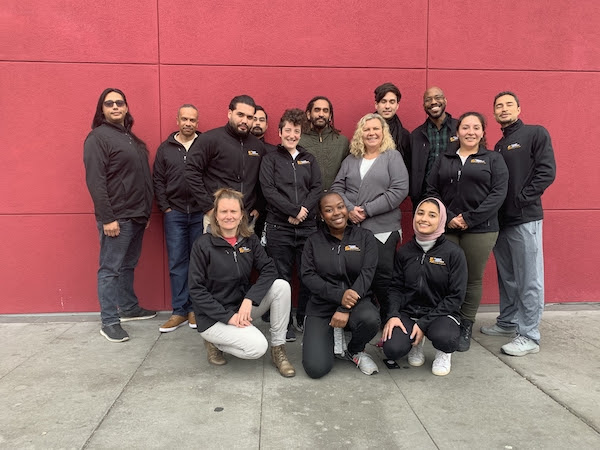 In the legacy of our namesake Ella Baker, we have worked hard to create a team full of leaders. Ella Baker said that "strong people don't need strong leaders." She believed in the power of the collective and the leadership of those most impacted. The Ella Baker Center is ready to embark on the next 25 years with these principles. Our team is working with a consultant as we establish a transition committee to engage members, staff, and board toward finding the next Executive Director. You can read our official press release on the transition and our next steps here.
I couldn't be more excited about what's to come for the organization and to see what the next group of organizational leaders will dream up from inside the large windows and bright, open spaces of Restore Oakland.
With gratitude,
Zach