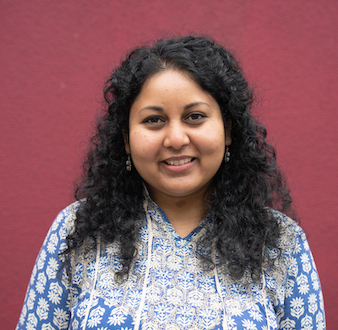 Mariyahl Hoole
As the Senior Development Associate, Mariyahl leads efforts to build partnership with institutional funders and other supporters of racial justice by connecting them to the heart of the Ella Baker Center for Human Rights.
Mariyahl is a Sri Lankan Tamil immigrant who moved to the Bay Area in 2016. She holds a deep love for her home country and its ethnic minorities who continue to fight for justice.
Mariyahl started her career as a peacebuilder in militarized conflicts and has global experience supporting local communities to create recognized solutions for peace and justice. Prior to joining EBC, she worked at National Peace Council (Sri Lanka), Generations for Peace (Jordan), and Global Fund for Women (San Francisco). She is a graduate of University of Pennsylvania (BA in Gender, Culture, and Society Studies), and attended Columbia University for an MA in Anthropology.
She is guided in her career by the relationships she built during her listening work with families who lost their children to the atrocities of Sri Lanka's civil war. It is one of the many reasons she works to resource the Ella Baker Center today.
Mariyahl joins EBC in borderless solidarity against policing and institutional violence – and with shared hope in community care and genuine self-determination. She believes joy is powerful resistance.
In her free time, you can find Mariyahl writing or reading with a cup of tea, playing tug with her pocket pittie-mastiff Kesari, or building a new way of home in Oakland.