Introducing The Racial Justice Act & Racial Justice Act 4 All
California steps forward on racial justice! The California Racial Justice Act (RJA), first enacted in Assembly Bill 2542 (Kalra), extends civil rights in the courtroom to empower individuals to challenge racist conduct against them in their criminal court proceedings. Now, with its successor, Assembly Bill 256 (Kalra), signed into law in 2022, everyone can use the RJA to challenge racism in their California state convictions or sentences.
---
Request the RJA4All Guide
Learn more about RJA/RJA4All, review behavior that violates RJA, understand remedies available under RJA, and learn how to raise an RJA Habeas claim in our comprehensive guide. Sign up to receive your FREE guide today!
We hope the information in this Guide will help people advocate for themselves as they stand up to the racism they have endured in our criminal legal system. Please reach out to [email protected] with questions or comments about the Guide or the Racial Justice Act 4 All.
---
Visit the ACLU's page to find more information about how to access county-level data to support their initial RJA petitions. This page has county information collected through the Public Records Act request process. Please reach out to the ACLU if you have additional questions about how to access data.
---
Implementation Timeline
Thanks to AB 256, the RJA will also apply retroactively to all state criminal cases, regardless of when judgment was entered. Retroactive application will be phased-in as follows: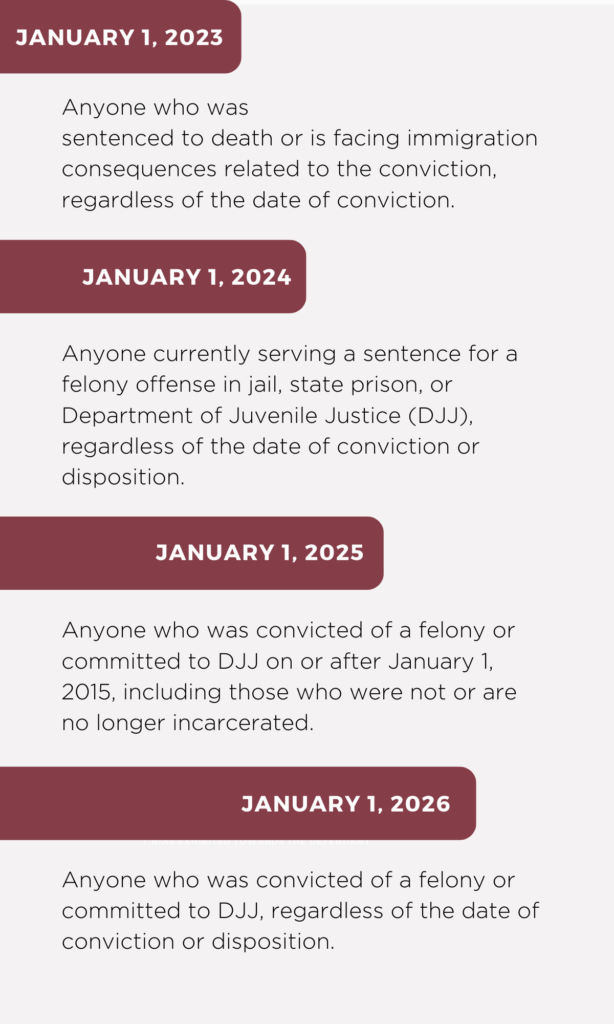 ---
Watch the RJA Webinar
On August 1st Ella Baker Center for Human Rights lead a community call to share our newly published resource: RJA 4 ALL: Information About the Racial Justice Act 4 All (AB 256 – Kalra).
This webinar will help you learn more about the Racial Justice Act including the types of discriminatory behaviors that violate the Act and how and when to file a claim as well as receive updates on current legislation and implementation.
---
Support the Racial Justice Act
The Racial Justice Act was introduced before the events that would shock us in 2020 – the novel coronavirus pandemic, and the racist killings of Breonna Taylor, Ahmaud Arbery, and George Floyd. The Act passed because of the enlightenment sparked by those tragedies that carried people into the streets to demand better from our institutions. People-power demanded that we no longer tolerate racism in our systems of justice, and that opened the door for this bill to become reality.
With the RJA we proclaim that we can heal from our past by upholding respect for our shared humanity. By extending its protections retroactively, we affirm that our healing will leave no one behind. Support the RJA and those who it can help by donating to our implementation fund today.
---
The Ella Baker Center for Human Rights is proud to have worked with Asm. Ash Kalra (D-San Jose) and an incredible group of allies to pass this groundbreaking legislation, including the ACLU of California Action, American Friends Service Committee, California Coalition for Women Prisoners, Californians United for a Responsible Budget, Coalition for Humane Immigrant Rights (CHIRLA), Initiate Justice, the League of Women Voters of California, and NextGen.
---
Check out the Ella Baker Center's current and past state policy priorities: