We are excited to share a new resource for people in California prisons with 5-year enhancements on their current sentence for prior serious felonies. We've Updated our toolkit!! Check-out the new version here.
Back to Court: A Resentencing Guide to the Fair and Just Sentencing and Reform Act (SB 1393) and PC § 1170(d)(1)
This toolkit is designed to be a specific resource for people impacted by SB 1393, and also a general resource for anyone interested in PC § 1170(d)(1) resentencing.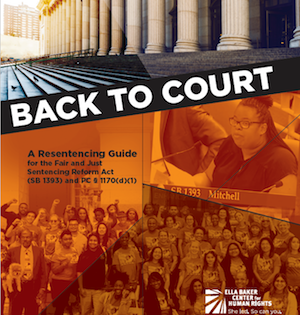 SB 1393 (Mitchell, Lara – effective January 1, 2019) ended the mandatory requirement that judges add a 5-year sentence enhancement for each prior serious felony on a person's record, also referred to as a "nickel prior." While SB 1393 was not retroactive, it is now possible to request a referral for the discretionary resentencing of these enhancements. This toolkit provides information for people serving and/or appealing sentences with 5-year enhancements on how to request resentencing and what to expect in the referral and resentencing process.
This toolkit also discusses in detail the recently expanded law on discretionary resentencing called PC § 1170(d)(1) – Recall of Sentence and Resentencing. This is an exciting area of law due to the 2018 passage of AB 1812 and AB 2942 (Ting). These new amendments expanded the possibility for post-conviction relief, gave CDCR funding to make resentencing referrals, and gave District Attorneys the ability to make resentencing referrals as of January 1, 2019.
We hope the information in this Toolkit will help people advocate for themselves for resentencing in a number of contexts. In addition to receiving a PC § 1170(d)(1) referral for resentencing based on 5-year enhancements, it is also possible to be resentenced on the basis of "exceptional conduct" and other sentence enhancements that have been repealed or are now discretionary after recent policy reforms.
The Toolkit includes an Appendix with some further resources, as well as a Resource List if you would like to request further information to assist you in your self-advocacy.
Please send us your feedback on this Toolkit and your resentencing experiences to:
Ella Baker Center for Human Rights 1419 34th Ave, Suite 202, Oakland, CA 94601
Your loved ones and support network can also reach out to [email protected] with questions or comments.
More information on SB 1393:
Ella Baker Center members and co-sponsors fought hard to win the passage of SB 1393, a California Senate bill signed into law by Governor Brown in September 2018. Also known as the Fair and Just Sentencing Reform Act of 2018, the bill was co-authored by State Senators Holly Mitchell (Los Angeles) and Ricardo Lara (Long Beach), co-sponsors include ACLU of California, California Coalition for Women Prisoners, Californians United for a Responsible Budget, Coalition for Humane Immigrant Rights of Los Angeles, Drug Policy Alliance, Ella Baker Center for Human Rights, Friends Committee on Legislation of California, Legal Services for Prisoners with Children, Pillars of the Community, Tides Advocacy, and Women's Foundation of California.