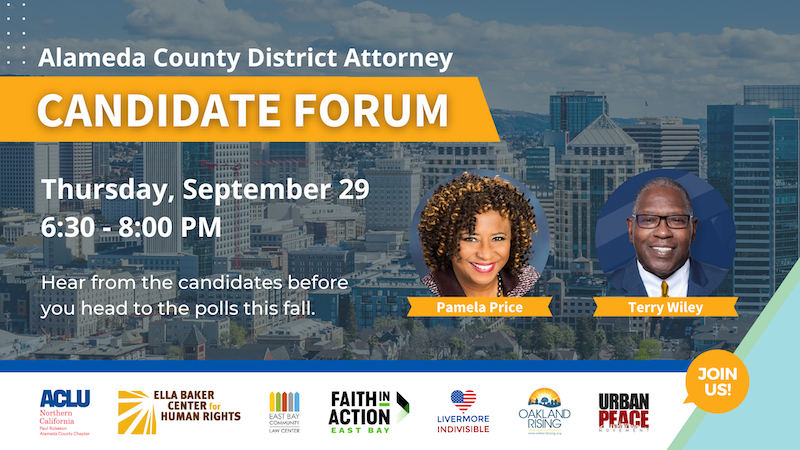 Thursday, September 29th, 6:30 p.m. – 8:00 p.m.
Join us for an Alameda County District Attorney forum – this is a space to share information to help you, and other voters, make informed voting decisions.  We do not endorse either candidate.  There will be an opportunity for attendees to submit questions during the forum.
Do you know your DA?
The Office of the District Attorney (D.A) is arguably the most powerful elected position in Alameda County. The state vests enormous authority & prosecutorial discretion into the hands of the elected county D.A.  This office holder can drastically change youth and adult incarceration rates in Alameda County as well as hold law enforcement accountable.
With the announced retirement of D.A Nancy O'Malley –  for the first time in 37 years – Alameda County will have an open D.A's race. Change has been long overdue in our county, in particular for Black, Brown and Low Income residents who are overwhelmingly impacted by the priorities and policies of the D.A.  To put things into better perspective, in 2018, about 48% of all people sitting in an Alameda County jail were African American, this despite the fact that African Americans only comprise about 10% of the entire county population. This type of significant racial disparity only further highlights the need for drastic change. Alameda County residents will have an opportunity this year to make their voices heard as they take to the ballot box and vote for change.
We want to provide you with as many resources as possible so that you can make an informed decision.