By Ashley Chambers
As we celebrate mothers this week and every day, we center the needs of women in our communities, in our families and those that are directly impacted by our criminal legal system. Today, the meaning of mother and family symbolizes so much more than just someone who gives birth to a child.
It symbolizes women who show up for their community; mentors who go beyond sharing advice to their young mentees, they show them too; women who create space for other mamas to speak their truth and heal their traumas. It is mothers who don't back down from fighting for justice for their loved ones; women who create spaces of love and solidarity for LGBTQ+ and gender non-conforming people; and mothers who uphold their families while navigating the prison system and reentry barriers.
We connected with some mamas in our community who shared lessons and insight for the next generation of leaders in our movement.
"When you find your people, people that will mentor and support you, those relationships are sacred."
–Marlene Sanchez, mother, movement leader, Executive Director of EBC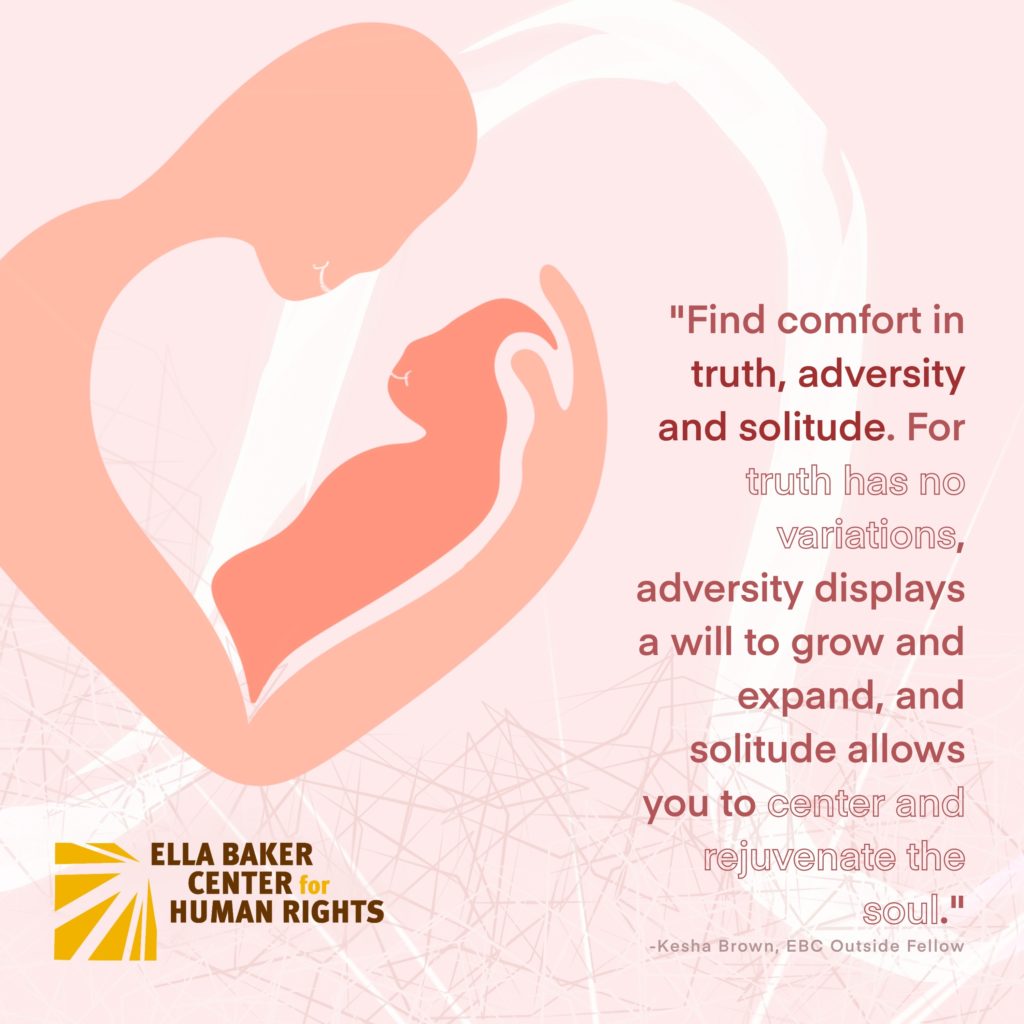 "Find comfort in truth, adversity and solitude. For truth has no variations, adversity displays a will to grow and expand, and solitude allows you to center and rejuvenate the soul."
–Kesha Brown, EBC Outside Fellow
"Listen to your gut. Ask questions of the adults around you that make decisions and demand answers. Stay true to who you are. Your voice is powerful, your voice is needed. And always do things in love."
–Lupe Angulo, mother and mentor to young people
"Know yourself, trust your instincts, walk humbly and boldly in truth, and never ever believe it can't be done."
–Joanne Scheer, Felony Murder Elimination Project
We know there are many challenges that mamas face each day, from the injustices in our legal system to the ongoing bail system, and financial burden of incarceration that women often carry for their loved ones. Here are some resources we encourage you to support and share today:
Support Black Mamas Bail Out
Celebrate and honor Mamas Day
Welcome home our Inaugural Inside Fellow Thanh Tran! Support his re-entry by giving to Thanh's Freedom Fund
Share this campaign with Someone You Love
Root & Rebound is hosting the Second Annual Formerly Incarcerated Women's Week until May 13th, focusing on mothers in re-entry. It will include a Table Talk featuring impacted women on Thursday, May 12th, and a Legal Resource Fair on Friday, May 13th (no registration needed). Follow @rootandrebound to stay updated.
A Season to Appreciate Mothers in the Courts – like and share the Racial Justice Act for All
Join Debt Collective to lift up the physical & financial freedom of Black and Brown Mamas this week. They have relaunched their CANCEL BAIL DEBT tool to ensure that all illegal bail debt in California is erased. Mothers should be FREE from incarceration and debt! The tool makes it easy for people who have co-signed on a bail bonds contract in California, and have resulting debt, to challenge that debt and get it erased.
Read this call for bail funds from EBC Senior Organizer and Advocate Nifa Akosua
This #MothersDay, Asian Americans Advancing Justice – Asian Law Caucus is honoring the mothers who have been torn away from their families through incarceration & the prison-to-deportation pipeline. Clemency for mothers & parents means more families can reunite and heal together! Read their new Clemency Advocacy Guide: bit.ly/clemencyguide22
The Fund for Guaranteed Income and The National Council for Incarcerated and Formerly Incarcerated Women and Girls announced the second annual Community Love Fund. This fund will be the first to serve currently and formerly incarcerated women with direct, recurring cash. Follow @fund4gi to stay updated.
Join JusticeLA Virtual Actions throughout the month to fight for justice in our communities
Tracy McCarter is a Black mother, grandmother, and trained nurse from New York who is facing criminal prosecution for the death of her estranged husband. Sign this petition from Color of Change to #StandWithTracy.