By James King
As I reflect on the legacy of Black history and resistance in this country, I feel a sense of empowerment, joy, belonging, and pride. I am also overcome with feelings of anger and sadness at the level of impunity and disregard for Black life, and the senseless state-sanctioned murders of Tyre Nichols, Keenan Anderson, and too many others.
Black life is sacred.
Tyre Nichols' life was sacred. Keenan Anderson's life was sacred. They should still be here, to love and be loved.
One thing that never wavers is the power of the people within this movement. Our power to protect and reclaim Black lives, Black spaces, our freedom of expression and action, Black joy, and Black futures. It is the solidarity among us, as Black people, in these moments of grief and overwhelm that I look to — organizers marching for justice from the streets of Memphis to the streets of Los Angeles and Oakland; the community rallying around the families of Tyre Nichols and Keenan Anderson, and most recently, Darryl Williams and Alonzo Bagley; demands from Decarcerate Memphis and Black Lives Matter Memphis leading the call for decarceration and an end to pretextual traffic stops.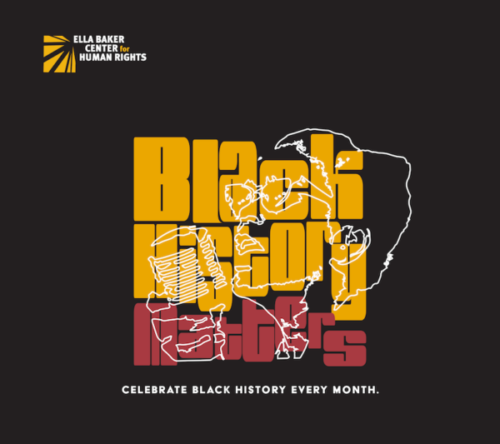 Black communities have been building power for centuries to fight against physical, economic, and political oppression, and to create a future that uplifts our liberation. Ella Baker's legacy was to inspire young leaders to lead the fight for their rights and liberation. At the Ella Baker Center, we continue to uplift her legacy and invest in a leaderful movement as we create a future where we all can live freely.
The work of reclaiming Black space and Black joy is not just moving to action when our community calls us — it is also embodying Black love and Black joy for ourselves. It is creating an ecosystem of support and solidarity to take care of each other. It is tearing down the systems of policing and oppression that have targeted Black people for centuries. It is replacing those systems with a safe, healthy, and thriving future for our families. It is uplifting a future where our collective liberation is realized.
Black life is sacred.
This is the affirmation I hold in my heart as we honor Tyre, Keenan, Darryl, Alonzo, and too many other loved ones lost to police violence in our collective action. Black people deserve to live.
Let's continue to honor the solidarity among us as we move this work forward to create a future where Black people can thrive.
"Remember, we are not fighting for the freedom of the Negro alone, but for the freedom of the human spirit, a larger freedom that encompasses all mankind." ~ Ella Baker