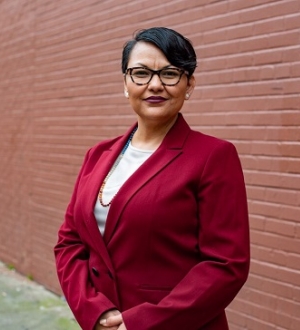 Theresa L. Gonzalez

Theresa L. Gonzalez is the Executive Director of Centro Legal de la Raza. Founded in 1969 in Oakland, Centro Legal is a comprehensive legal services and advocacy organization protecting and advancing the rights of immigrant, low-income, and Latinx communities through bilingual representation, education, and advocacy – focused on Worker, Tenant and Immigrant Rights.
Theresa is a Genizara descendant, Indigenous to New Mexico and a mother of 4 children and 1 grandchild. She was first caged at the age of 14 and received her high school equivalency credential in the youth detention facility. She has committed 19 years of her life in loving service to ensure racial, economic and social justice focused on intersectional issues affecting the wellbeing of Indigenous, Latinx and Black families. Prior to Centro Legal she served as Deputy Director of Families & Fathers of San Joaquin located in Stockton CA and as a national consultant with the W. Haywood Burns Institute headquartered in Oakland CA.
She has advanced life pathways for excluded youth, adults and families and is deeply committed to healing and justice. Some of her work includes training justice system stakeholders on strategies to reduce racial and ethnic disparities and has co-built several community-based alternatives to detention in New Mexico and California, including 3 transitional living facilities for formerly caged women and several nationally recognized reentry initiatives for adjudicated youth and adults. In addition, she expanded 2 integrated models of trauma informed, mental health treatment and culturally rooted healing for victims of violent crime.
A first-generation college graduate, she received her academic training from the University of New Mexico and holds a Master of Science in Community Health and Bachelor of Business Administration from the Robert O. Anderson School of Management. Theresa is the proud recipient of numerous awards, including the 2015 Albuquerque Business First Women of Influence, 2015 Southwest Organizing Project's Jeanne Gauna Social Justice Spirit Honoree, 2015 New Mexico Office of African American Affairs Volunteer Award and the 2011 Sarah Belle Brown Community Service Award from the UNM Office of the President.